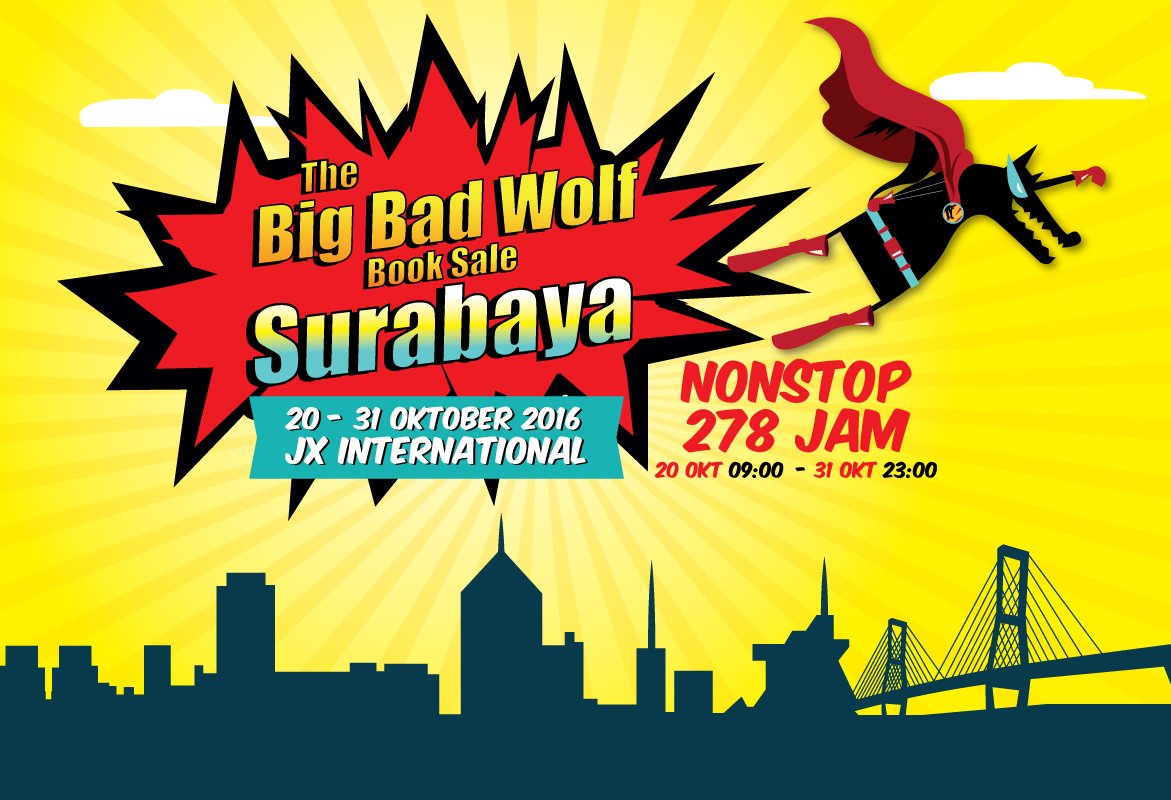 Kini hutan berubah! Bukan lagi rimbun akan dedaunan ataupun rapatnya batang pohon. Aromanya bukanlah tanah basah bercampur daun kering yang terdekomposisi yang ditebar oleh (mungkin) Dryad, si peri hutan.
Tercipta sebuah hutan buku di JX Internasional Surabaya. BUKU! Batang pohon bertransformasi menjadi meja-meja panjang kokoh. Bukan daun berguguran, namun beribu buku nongkrong dengan anggunnya menunggu pembeli mengusap, meneliti cover, membaca sinopsis, kemudian memasukkan ke dalam trolley bag, siap untuk dibayar dan dibawa pulang!
Aroma yang menguar berasal dari berbagai jenis kertas yang terhimpit diantara dua sampul, beserta tinta warna-warni dari pabrik tempatnya dicetak. Entah di Indonesia entah di bagian dunia yang mana.
Alunan musik hutan bukan lagi desau angin yang menggesek dedaunan dan ranting, atau dengung lebah. Bisikan bahkan teriakan para manusia yang haus ilmu. Yang mana matanya berbinar melihat tumpukan buku terhampar di penjuru JX.
Kuperkenalkan kepada kalian, BIG BAD WOLF BOOKS SURABAYA! Nikmatilah foto-foto di bawah ini yang akan bercerita dengan ramai, menawarkan keceriaan pada para bookworm.
WE DARE YOU!
Hiduplah dengan rasa ingin tahu yang besar akan ilmu -zharnd-
Kalau sudah tua, tak apalah bermain dengan teknologi tinggi nan canggih.
Namun senyampang muda reguklah ilmu sebagai pegangan menggunakan teknologi dengan baik dan benar. Hehe.
Siapa yang bisa menolak harga ini?
Adikku tersayang, bilapun banyak hal kita berbeda.....berharap hobi membaca adalah kesamaan kita.
"Good friends, good books, and a sleepy conscience: this is the ideal life."
"The person, be it gentleman or lady, who has not pleasure in a good novel, must be intolerably stupid."
Bola ini bukan untuk ditendang, namun dibaca!
"So many books, so little time."
"Sometimes, you read a book and it fills you with this weird evangelical zeal, and you become convinced that the shattered world will never be put back together unless and until all living humans read the book."
"If you only read the books that everyone else is reading, you can only think what everyone else is thinking."
"One must always be careful of books," said Tessa, "and what is inside them, for words have the power to change us."
"I declare after all there is no enjoyment like reading! How much sooner one tires of any thing than of a book! -- When I have a house of my own, I shall be miserable if I have not an excellent library."
"I have always imagined that Paradise will be a kind of library."
"There is no friend as loyal as a book."
"Books are the ultimate Dumpees: put them down and they'll wait for you forever; pay attention to them and they always love you back."
"Books are a uniquely portable magic."
"Books are the quietest and most constant of friends; they are the most accessible and wisest of counselors, and the most patient of teachers."
"A great book should leave you with many experiences, and slightly exhausted at the end. You live several lives while reading."
"Only the very weak-minded refuse to be influenced by literature and poetry."
"No man should bring children into the world who is unwilling to persevere to the end in their nature and education."
You can't find a maknae in any other group that is ruder than KyuHyun
I ate your love for me causing me to get drugged and addicted.
You can't get angry just because you can't control the world as you please.
— KyuHyun (Thanks To, 5jib)
"Meow" means "woof" in cat."
"I have a passion for teaching kids to become readers, to become comfortable with a book, not daunted. Books shouldn't be daunting, they should be funny, exciting and wonderful; and learning to be a reader gives a terrific advantage."
"I think that the best thing we can do for our children is to allow them to do things for themselves, allow them to be strong, allow them to experience life on their own terms, allow them to take the subway... let them be better people, let them believe more in themselves."